Join The Carers' Centre!
If you look after someone, we are here for you. Being a part of The Carers' Centre means you will be able to go on fun days out, meet other young people who understand what you're going through and be able to access helpful advice. Just ask your parent or guardian to sign you up.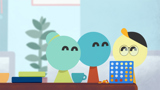 What is a young carer?
A young carer is someone that helps look after their mum, dad, brother, sister or someone else in their family that needs extra help. They may need support due to old age, illness, disability, mental health problems or an addiction. Looking after someone is a pretty amazing thing to do, but it can also be a lot to take on.
Why we're here
We help young carers stay happy and healthy in their caring role. We're a local charity that provides advice, emotional support and assessments to ensure they are full supported. We also offer a range free activities to help young carers take a break, and meet other kids that understand.
You are not alone
Hear from other children and young people, who look after their friend or family member. 
How to join
If you look after someone and want to get involved with our young carers service, follow these simple steps.
Stay up to date
If you are the parent of a young carer, subscribe to our e-news to keep up-to-date with awesome activities and updates.