Dementia brings specific challenges for the person living with the condition, and for the person looking after them. You told us what was important to you, and we listened.
A dedicated supportive space for those looking after someone with dementia and the person they care for to attend. Your loved one will be enjoying their time with an experienced facilitator whilst you catch up with others in a similar situation.
To help you get the best possible experience and support we ask that you attend all sessions.
Please note: The café scheduled for Friday 27 October has been rescheduled to Friday 6 October.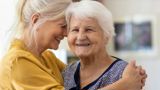 What to expect
Our free activities are here to help you take some time for yourself and to meet others that understand the joys and challenges of looking after a loved one.
There are lots of reasons to join this fantastic activity:
Meet people in a similar situation, that understand what it's like to look after a friend or family member with dementia
Bring the person you care for along and enjoy a relaxed local setting
Enjoy an informal chat over a cuppa that's guided by the attendees, with support from a friendly host
"It was reassuring to meet others who I had so much in common with! I was feeling uncertain about whether I would benefit, but I felt so relaxed and reassured!"
In Person
Key information
Duration: 1 hour 30 minutes
Time: 10:30 AM
Location: The Woodlands, Lower Bristol Road, Bath, BA2 9ES
The Carers' Centre adheres to a Fair Use Policy to ensure as many people as possible can access free activities. This means you may not be able to go to every activity that you request. Once we receive your request, we will get back to you within approximately 2 weeks to confirm the activities we can offer you.
Not joined The Carers' Centre?
To register your interest in an activity, you need to join The Carers' Centre by completing a short online form. This will enable you to access our free activities and services.
Join today